As my last semester comes to an end and my commitments move on to my replacements, I find myself in an interesting juxtaposition: seeing many projects that I have worked on finished and a part of the UVa experience, while leaving with so much more that can be done. When I entered, Sustainability had just begun a grasp and foothold. As seen by the legend of our day, Sheffield Hale, here's a great post at the beginning of this transformation: Why UVA will be the nation's leading sustainable university.
With the teamwork of amazing staff and faculty plus great Sustainastudents, who apparently liked my Sustaina- words that it caught on and with whom I will find myself walking the Lawn in a few short weeks, Sustainability has become an overarching pillar of the student experience that looks to grow even further. Critically, the organization of sustainability has now entered its largest challenge: conversion of Non-Traditional Green groups and people into environmentally aware graduates and community members.
4 years of successful Game Day Challenges diverting waste from football games expanded this year to a Game Day Challenge for Men's Basketball versus Notre Dame that not only saw a dominant second half by Virginia, but saw a large scale composting result as well for an audience not used to tracking their waste or composting.
As the momentum has shifted towards sustainability from the Board of Visitors to Terry herself, now if any time, is the best time to be involved with sustainability at the University. However, back to that challenge of the non-traditionally green majority of the greater Charlottesville – Albemarle area, how will future students, staff, faculty, and community members tackle this grand challenge? Let me show you the successes from an unexpected source: NASCAR
Yes, NASCAR
Before you leave in confusion, hear me out. In the midst of the recession and declining attendance and TV audience, NASCAR, the very activity that you may not consider sustainable, invested heavily into redefining their fossil-fuel based sport into one that both went cleaner through (sadly a delayed transition) to unleaded gasoline and fuel injection, while adding E15 2 years ago to operate their vehicles. But as you can probably tell, that's not really a big deal. One car driving 500 miles at an average of 5mpg while travelling in excess of 200 mph lap after lap creates 1 metric ton of CO2, also known as the amount of carbon 1 tree consumes in 40 years. To address this, in 5 short years, NASCAR has planted 310,000 trees not just in one area at random but in areas of disaster and nearby locations of the race tracks they visit. They even engage fans as seen below to help the cause and give money towards restoring foliage in disaster relief areas with native tree species. Leveraging social media, fans can share their donation with friends and followers to increase the donation size not just during the month of April but the other 11 months as well. Separate from disaster relief, most tracks across the nation with a NASCAR presence offset their carbon footprint 100% with local plantings and area improvements.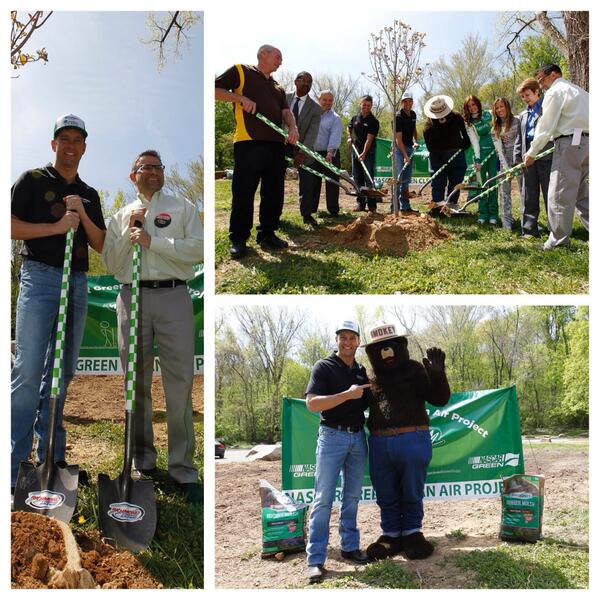 Just this past weekend, outside Richmond International Raceway, NASCAR planted a large group of trees among other efforts to improve the quality of James River Park. While undoubtedly NASCAR Green has farther to go to reduce the footprint of NASCAR events, consider these facts:
Throughout the concourse, grandstands, garages, and campgrounds at a typical NASCAR weekend, Coca-Cola labeled recycling bins are co-located near trash bins, encouraging their use, with a clean-diesel (featuring particulate filters) mobile processing unit truck recycling 1,000 cans, bottles, containers per minute on site before being reused into the next Coca-Cola product.
Safety Kleen recycles all 200,000 gallons+ of used oil annually, recycling and purifying the used oil to sell to companies like Valvoline, who then provide recycled motor oil to several race teams, as seen with Valvoline NextGen seen here
Goodyear recycles all 121,000 tires used in the 3 National Series over the entire year going to Goodyear's facility in Charlotte, NC to then be used in power plants, new roadway asphalt, and playground surfacing
25 Acre 3MW Solar Farm at Pocono Raceway provides not only power to the facility during events but power to 1,000 homes nearby in Long Pond, Pa among the rural outskirts of the Pocono Mountains
Sonoma Raceway in Sonoma, CA north of San Francisco Bay deep in the heart of wine country and sustainable folk back in 2011, installed a 353 kW solar array to power 41% of the track's energy needs during the typically sunny summer season  events and 3,000 cuddly sheep friends to mow the grass year-round.
While no doubt NASCAR has far more to go to reduce its environmental impact (which while great is miniscule compared to the larger United States), it's education of its fans has seen dramatic change. With better recycling rates at tracks, and better brand recognition of NASCAR Green efforts, fans prove twice as likely to be environmentally conscious than the average American. In 2008, there was no difference. Over 50% of fans align themselves with being environmentally aware, and the number is growing.
This Past Weekend
I had the opportunity this past weekend to not only attend the event at Richmond International Raceway but be a part of it, as you can see me in Victory Lane on Friday.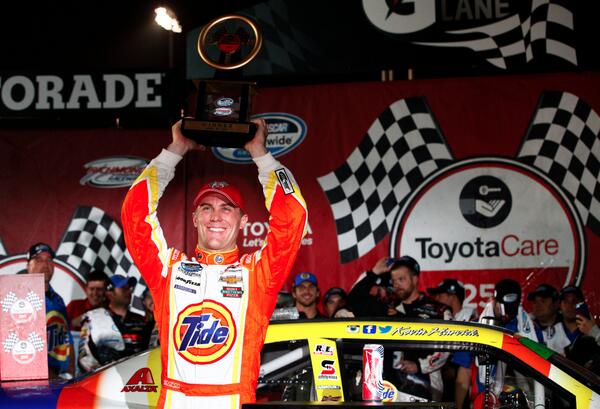 On Saturday, Energy Secretary Moniz was there in support of the large event part of the larger MOU the DOE signed with NASCAR last September towards pollution control strategies.
At the race, like at Daytona earlier this year (pictured), "Acumentrics Corporation completed a field test program with NASCAR to replace small portable gasoline generators with solid oxide fuel units that use commercial propane. These generators demonstrated considerable fuel savings and emission reductions compared with the standard solution, while providing reduced noise and vibration. With these attributes, the units have proven to be a viable power alternative for broadcasting needs for a host of different applications." (DOE) This is just one example of the many benefits that NASCAR Green will provide the DOE beyond education and tree planting.
Here's a white paper on NASCAR Green's initiatives
Summary
Bringing it back to UVa, Sustainability's next challenge of instilling environmental consciousness in non-sustainability people is not unique to itself.
If a non-traditionally green organization like NASCAR can within a short few years convert its fan base and operation towards a track of better environmental consciousness, the future looks bright for UVa.
In my past four years, I have had the wonderful opportunity to work alongside individuals far more amazing and transformative than I to advance sustainability at the University. While the mission is not done, nor can it foreseeably be "finished," in just four years, the University has launched a Global Sustainability Minor, a new major related to Sustainability, GIFT funding for student-led sustainability projects, an effective RA program advocating Sustainability, more sustainable presence in Dining, a Carbon and Nitrogen Reduction Goal, a student and staff co-led Environmental Impact Subcommittee working on projects of all different scope of sustainability, expanded enrollment in a Global Sustainability Class, a summer institute at Morven Farm teaching high level courses on food sustainability, a first ever Sustainability Summit last August, and this fall, a Bike Transit option with UBikes. In short, while I am ready to take my next step with a PhD program in Energy and Engineering with Tennessee and Oak Ridge National Lab, now, more than ever, is an amazing time filled with so many opportunities to take Sustainability to the next level, that I almost wish I had another four years to do it all over again!
Sustainably,
Alex
More info / sources on Nascar Green:
http://popularspeed.com/getting-to-know-nascar-greens-vice-president-dr-michael-lynch/
http://www.forbes.com/sites/csr/2012/09/05/nascar-green-is-really-purple/
http://tech.fortune.cnn.com/2013/04/19/nascar-green-mike-lynch/
http://www.timesdispatch.com/sports/motor-sports/nascar-cup/along-banks-of-james-river-nascar-talks-trees-and-green/article_de2165ae-52a1-5d5b-a49b-d7cf2fe22d30.html